Confirmation & Maintenance
Verify whether the Student Performance Roster has been submitted by opening the "Student Performance Roster" link in the Faculty Center. The roster is submitted using the Submit Performance button, which is found on the Student Summary tab. After the roster has been submitted, a date will appear next to the label Performance Last submitted on. A roster must be submitted in order for the data to be visible to students in the Student Center. Advisors can also view submitted data for students through the Administrative Center.
Updates made to the roster can be preserved without making them visible to students by using the Save Draft Performance button, which can be found on the Student Summary tab and as Save on the Assessments tab. The Submit Performance button confirms that you have verified attendance and have reported any enrollment discrepancies found.
Please note that an attendance value must be selected for at least one student in order to submit a roster.
Also, each student whose most recent data has been submitted will have a check box in the Submitted column to the right of the roster on the Student Summary page.

Clicking the Save button allows you to preserve any changes made to the roster while you are working on it, but only the Submit button allows roster updates to become visible to students and advisors.
The Last Saved On column shows the last date/time that information was saved for each student. This only appears until that student's data is submitted. The submitted records will then display a checked mark under the Submitted column (far right column of the roster).

After submission, the Last Saved On column and the date/time disappear and the box on the Submitted column is checked.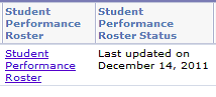 In the Faculty Center, on the My Schedule page, the Student Performance Roster Status will display the last time the roster was updated. This means the roster was either Saved or Submitted. Confirmation of when a roster was indeed submitted is displayed on the Student Performance Roster page.
The following reminder note appears on each roster page:

If a roster is updated after submission, a Last Saved On date/time will appear for the students who are updated after the last submission and their "submitted" box will be unchecked, indicating that this roster needs to be submitted again in order for the students to view these changes.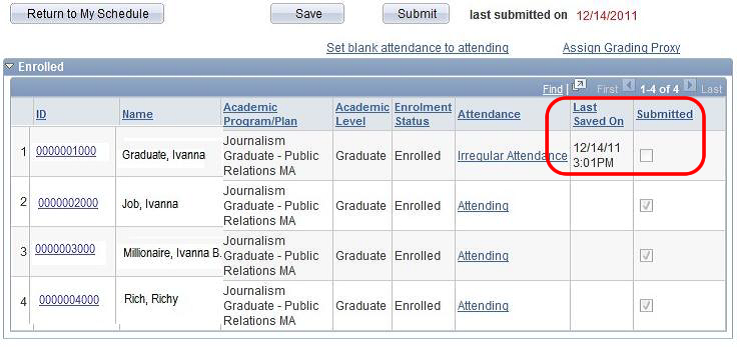 Questions?
For any additional questions, comments, or problems you run into with the attendance verification process or the Student Performance Roster, you can e-mail the Office of the Registrar at regrrost@indiana.edu or call us at (812)855-6758 Monday through Friday until 4:30 p.m.